Josh and I have been very, very lucky in that the recession stuff hasn't negatively affected us (yet). Knocking on wood, throwing salt over shoulder and keeping an eye out for ladders, black cats and sidewalk cracks. I am still keeping an eye on our spending, and sometimes I worry that we spend too much. But we have a sizable emergency fund, and we're putting more than 30% of our monthly income each month into our retirement, mutual fund, house, car, vacation and tax funds. So doing our part to stimulate the economy isn't so bad, right? I figure not.

This weekend we bought a new TV for the bedroom. Our old tube TV took up so much space in our cozy bedroom, and despite having a similar sized screen the new one takes up less visual space making the room feel more open. And actually giving me more space on top of our dresser, so that I was able to put my grandmother's mirrored tray up there.















Yesterday I received a new necklace in the mail and I'm in lurve. Literally. I ordered this sterling silver Lurve necklace from Etsy seller KatyScudieri after a week of hemming and hawing. And I'm so glad I landed in the "buy" column on this one. I use "lurve" all the time to express my adoration for people, places and things. The necklace itself is wonderful. And what could be better than having a Woody Allen reference hanging around my neck?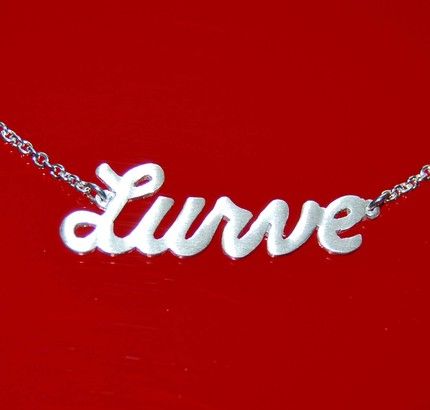 And lastly I finallyfinallyFINALLY found some boots. And I have a big, hearty recommendation for endless.com. I ordered these boots from them last week. They are on clearance, already marked down 45%. On top of that there was a special offer for $20 off a purchase of $100 or more, and I received free two day shipping. And as if all that weren't good enough, the shipping didn't even take that long. I placed my order Thursday afternoon and the boots arrived on my front porch Friday evening! It's not quite boot season in these parts (although we've had rain the past three days, hallelujah) but I am so excited to get some great fall/winter dresses and skirts to wear my new boots with!